17 by *kuki*
There is something special about the mailbox this time of year, isn't there? We open it with anticipation instead of worry. Who did we receive a card or a letter from today?What did they send? In our world of online sharing and instant access, there is something wonderful in the tradition of sending a written holiday greeting. I love the personal touch!
Today I'm giving away a space in my
Find Your Eye
class series starting 8 January. This includes both
Starting the Journey
and
Journey of Recognition
classes. Please link your blog or flickr url in the linky provided below and/or leave a comment on this post for a chance to win the giveaway. (Max 2 entries per person.)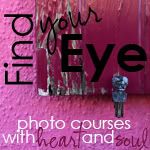 I look forward to seeing your submissions for the prompt: GREETINGS. Please link your blog or flickr url in the linky tool provided below.
Your creative holiday prompt for tomorrow is: GLOW.
Kat of
The Kat Eye View of the World
Please feel free to grab the button below to add to your blog posts and sidebars!
Copy and Paste Code: